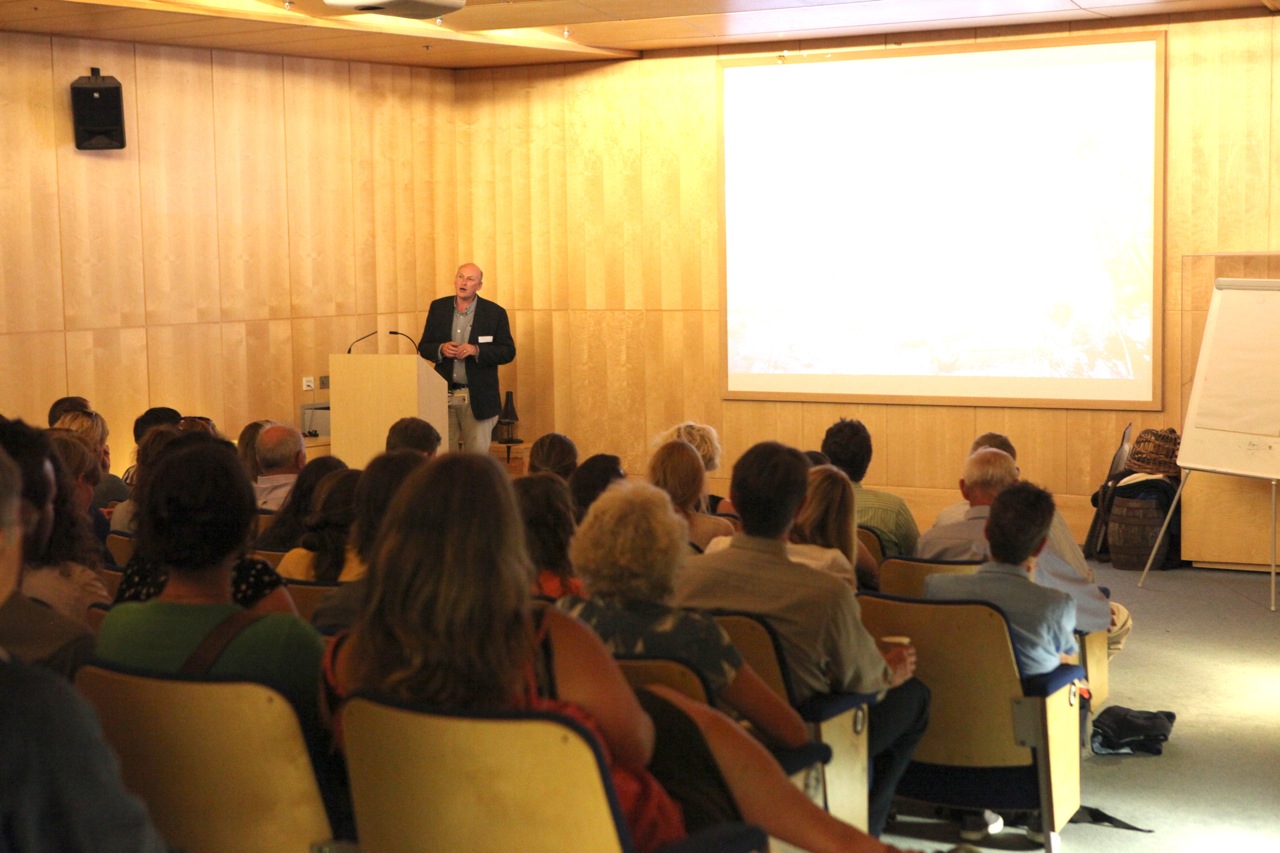 Bryony Stokes
One of the world's top marine plastics researchers, Professor Richard Thompson from the University of Plymouth, gives the keynote speech
Conference
We held a conference on marine plastic pollution at the National Maritime Museum Falmouth in July 2014 to mark the launch of the display of our plastic bottle boat there. The aim was to bring together key people from throughout the region interested in finding some real solutions to the growing marine litter crisis.
The event 'Ocean Plastic – Consequences and Solutions', kindly supported by the National Marine Aquarium in Plymouth, attracted high-calibre speakers and over 100 delegates from a wide range of sectors, including research, the plastics industry, environmental and beach cleaning groups, the fishing industry, innovative designers and policy makers.
Speakers
Richard Thompson (Plymouth University)
Matthew Cole and Steph Wright (University of Exeter)
Christina Dixon (World Animal Protection)
Philip Law (Director General, British Plastics Foundation)
Jim Portus (UK Association of Fish Producer Organisations)
Claire Wallerstein (Rame Peninsula Beach Care)
Stuart Hayward-Higham (technical development director of Sita UK)
Andy Fox (plastics engineer and builder of the Plastiki)
Laura Foster (Marine Conservation Society)
David Jones (Plastic Oceans Foundation)
Jules Florey (South West Water)
Neil Hembrow (BeachCare – Keep Britain Tidy)
Video presentation from the Plastic Bank
Video presentation from Ecover

To view the presentations and films shown at the event please click here.
Conference Outcomes
One of the major outcomes of the event was that it brought together people working on and concerned about this issue all around our region.
Since then, meetings have been held on this issue by Clean Cornwall, bringing together environmental groups, the Cornwall Council Waste Department and recycling companies.
The University of Exeter has also held marine litter workshops, and the topic was one of the major themes of the 2016 Marine Ecology and Conservation Network event.
RPBC has also been instrumental in setting up the Cornish Plastic Pollution Coalition, bringing together over 30 Cornish environmental groups and marine science experts, to focus on specific target areas we can tackle in our county.
If you have any other ideas about how our area can take a firm lead in tackling the issue of marine plastic pollution please get in touch – we'd love to hear from you!